最近迷上了iTunes,
自從幾個月前在網路上看到iTunes的教學文之後,這一兩個月就一直在研究它,
來看一下我的iTunes和podcast選單~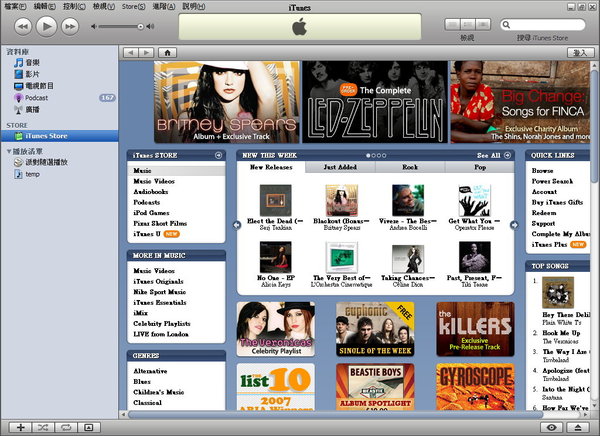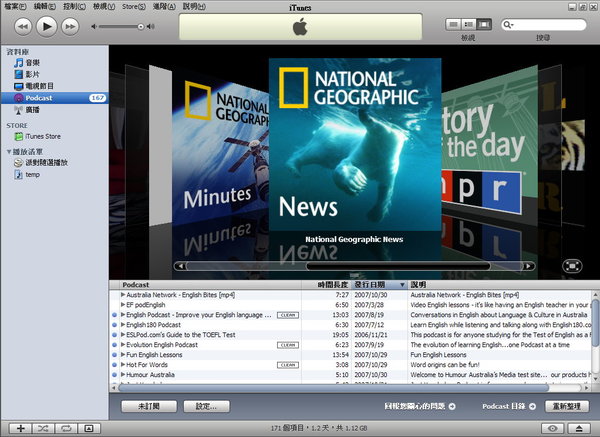 真的覺得iTunes是一個很棒的東西!尤其對語言學習來說,特別有幫助。
常常有事沒事就來去逛一下iTunes Store,往往都會發現一些寶喔!
以下是我利用iTunes訂閱的一些Podcast,主要是以英語學習為主啦!
(如果想要訂閱以下或是其他的podcast,你必須要先下載iTunes,可以到以下網址去下載
http://www.apple.com/itunes/download/
,然後在
iTunes Store
那邊搜尋以下名稱或其他關鍵字就可以囉~)
---
1. National Geographic News
Listen to the week's top nature and science news, interviews with innovators, audio quizzes and a little feature we call Photos on the Radio.
2. National Geographic Minutes
60-second reports on nature and science.
3. NPR: Story of the Day
Funny, moving, exceptional, or just offbeat -- the NPR story people will be talking about tomorrow. The best of Morning Edition, All Things Considered and other award-winning NPR programs.
4. EF podEnglish
EF podEnglish improves your English with bite-sized 5 minute videos. Perfect for beginners, intermediate and advanced students, these video lessons are as good as having an English teacher in your pocket! Created by EF & Englishtown, the world's largest language school with over 400 schools in over 50 countries worldwide. For more video podEnglish lessons, visit www.ef.com/podenglish. Enjoy!
5. English 180 Podcast
Learn English while listening and talking along with English180.com's head-coach Andrés Moreno. You will learn important words and phrases that are relevant to everyone's everyday life. Improve your listening, pronunciation, and conversation skills in an entertaining way that will motivate you to keep learning. The English180 podcasts are part of an extensive and entirely FREE English-learning program that can be found at English180.com. Remember, practice makes perfect!
6. Evolution English Podcast
A new show each weekday to improve your English on your time, at your own speed. It's the evolution of learning English.
Listen Mondays for expressions and idioms...
Tuesdays for fun stories from the media...
Wednesdays for pronunciation tips and practice...
Thursdays to learn how to talk to people...
and Fridays to have your questions answered.
7. Fun English Lessons
A fun and interesting ESL podcast for intermediate to advanced students who want to learn useful vocabulary and culture. Two Canadian brothers discuss all kinds of topics and explain clearly any new vocabulary and phrases. Perfect for classroom discussion as well.
8. Just Vocabulary
Just Vocabulary Podcast is for anyone who wants to improve their English Vocabulary. This daily (Monday through Friday) 4 minute podcast covers new interesting words. This ESL Podcast is hosted by Jan Folmer. If your English is your Second Language; this podcast is for you!
9. Storynory-Free Audio Stories For Kids
Storynory brings you a beautifully read audio story every week. Let Natasha's voice beguile you with fairy tales, classic children's stories, poems, myths, adventures and romance. All our stories are chosen by Prince Bertie, a modern royal who has been turned into a frog.
10.Toefl Tiger
Two iBT TOEFL teachers talk about taking the test and what strategies, tricks, and tips work the best. This is intended for students that will take the iBT TOEFL test or other teachers who might find the ideas useful for their classes. The podcast will be released weekly.
11.ESLPod.com's Guide to the TOEFL Test
This podcast is for anyone studying for the Test of English as a Foreign Language (TOEFL) or the International English Language Testing System (IELTS). It is designed to help you improve your listening comprehension skills.
12.Australia Network-English Bites[MP4]
English Bites is an informative and entertaining TV show and web site that can help you improve your knowledge of the English language. English Bites is brought to you by Australia's largest and most trusted broadcaster, the Australian Broadcasting Corporation and is shown daily on Australia Network, which is available in 21 million homes in 41 countries across Asia, the Pacific and the Indian subcontinent and in more than 200,000 hotel rooms.
13.English Podcast-Improve your English language skills by listening to conversations about
Australian culture
World Languages Podcasting provides a podcast series in various languages for the intermediate to advanced language student to help improve language skills and knowledge of Australian culture. Each conversation is complimented with a full transcript and a page of language exercises that may be downloaded from the website www.worldlanguagespodcasting.com.
14.Humor Australia
Welcome to Humour Australia's Media test site... our products here are undergoing evaluation and testing, before release... and so, therefore do not represent the finished product... but we welcome your thoughts and suggestions!
15.Discovery News
Stay on top of the latest developments in science news, including space exploration, technological breakthroughs, archaeological findings, animal and environmental research and more.
還有一些音樂的頻道:)
就讓大家自己去玩玩看吧!